Buyer Stories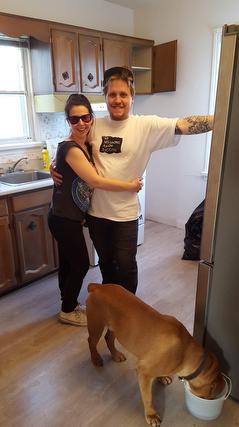 Finding their place...
I met Lexi at an open house early in the year and she was a bubbly young woman in search of a place for her and her fiancé Kellen.  They were just feeling out the market but we agreed to keep in touch and start a search when they were ready. 

As the Winnipeg weather warmed up a bit, we met and started our search for the right place in the early spring.  They were very organized and really knew what they were looking for.  It didn't take us long to find the perfect mix of character and fixer upper.  Before we knew it, we had an accepted offer and these transplants from Eastern Canada had found their Winnipeg home. 

Once the deal was all done and before possession was to take place, this cute couple had some business to take care of.  A vacation down to the US had wedding plans at a small town city hall as part of the itinerary.  So they returned home as newlyweds and took possession of their West End home. 

They have some work to do but with Kellen's carpentry skill, I can't wait to see what kind of amazing work they do to make this home unique.  Brisket is happy to have a new home and a yard to play in. 

Congratulations on your new home and on your wedding and here's wishing you many happy years together.


 
All in the Family….
The first time I met Steve was with his parents who were also clients of mine.  Steve is a hard working young man looking to start out with his first home…what an exciting time for him.  We talked a bit about what he was looking for but he had great people advising him in the process so I knew we would find him the perfect place.  It was great to see this young man spreading his wings. 

The hunt started and I think that Steve found it a bit discouraging because a lot of the homes we were looking at in his price range needed lots of work or had some major issues.  But we plugged on and eventually found a great little place on Boyd Ave with a wonderful verandah and a perfect yard with garage.  The house needed a bit of work on the inside but nothing that these renovation pros couldn't handle.  It was great to work with this family and to see how excited Steve was to put his own touch on his new home.

 
New Beginning….
Kaylee and Tyler were first time home buyers on a search for their first home together.  We met for coffee and a visit in October 2014 and started the search for their perfect starter home.  They were organized and had been to the bank and had all their numbers in order.  But once we started to look, they quickly realized that what they initially wanted to spend would not get them the home that they wanted. 

So we looked and put in offers on a few places and were not successful at the beginning.  As we continued our search, we decided to increase the budget and see if we would have better luck.  And after a few deals that fell apart because of inspection reports or being outbid on offers day, we finally found a great place in St. Vital, close to work for both of them with a nice sized yard for their new puppy.  The deal went through and they took possession but with the help of family and friends, they were able to do a huge renovation of the flooring and trim as well as some paint before they moved in. 

The puppy moved in shortly after as well and is thrilled with his big back yard.  The social and the wedding for Kaylee and Tyler went off beautifully and this great young couple have started their new life together in their great new home. So thrilled to have been a part of this.


 
Finally home…
Sara is a busy school professional with a hectic schedule but who was anxious to move out of her family home and start her own future in a home for herself. 

I met Sara after being referred to her by Daniel Pop of RBC.  I wanted to get a feel for what Sara was looking for and to go over the details of what is all involved when purchasing a home.  We met at a Starbucks one summer morning when she was off work and had some time to focus on this project.  We hit it off and spent a good hour going over the process, the paperwork that would be involved and all the technology that we use to help find a perfect place.  I think this helped to ease her mind and feel more relaxed about things.  Once you understand how things will proceed, it's not so intimidating.

We started looking at properties over the summer…we hunted and hunted.  We had an accepted offer on a property at one point but the deal fell through when the inspection showed there to be a nasty mouse infestation.  Thank goodness we found that. 

We eventually found a great little home in St. Boniface on Hill Street.  Sara brought her dad and some friends to have a look and we put in a bid and were successful.  What a great home and a beautiful neighborhood to start off your first home ownership.  I really enjoyed our time working together.


 
Investment Turnaround…
J.P. and Julia wanted to find a property that they could build a duplex on in an established area of the city.  When the property on Dubuc came up, it seemed like it would be ideal.  The price was right and the location was perfect on the end of a quiet street, next to a neighborhood park. 

The initial plan was that the purchase would be just for the land but things changed once they had discussed things with their bank.  The plan changed to a purchase of the property and a major renovation of the existing house.  And to top it off, as it was just a land purchase initially, they bought the house without having even seen inside it.  And lastly, all this was going on as they were in the middle of their wedding preparations.  Talk about lots of stress…but they were amazing and handled it all with a calm attitude. 

After the wedding celebrations had settled down and life was getting back on track, they began the renovations of the house.  A total gut of the inside took most of the winter as they plugged away a little at a time.  Some new windows and doors, new wiring, new insulation and drywall and a full interior update turned this little one bedroom house into a beautiful, updated home that they were able to rent out in a second.  What a lot of work that paid off in the end.  So glad to have worked with you two!!