My Area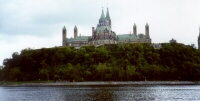 Its hard to believe that 20 years ago, on January 1, 2001 the new City of Ottawa was born. With amalgamation, the City of Ottawa is  the fourth largest city in Canada with a population of approximately 1,393,000 in 2020. Located along the Ottawa River in the eastern region of Southern Ontario, the city spans 2,796 square kilometers (1,080 square miles) taking in more than 150 communities. We are approximately the same latitude as Venice (Italy), Bordeaux (France) and Sapporo (Japan).  What an exciting place to live!!!

There's a home sweet home for everyone in the City of Ottawa, whether you love urban downtown living or a quiet country life. Ottawa covers nearly 2,800 square kilometers and nearly 80 per cent of that area is rural land. The city measures 90 kilometers east to west and we have a small dense urban area, several large suburban areas, and the aforementioned vast rural areas that stretch as far east as Casselman, as far west as Arnprior, and as far south as Winchester. Our city's diversity and natural beauty is all at your fingertips when looking for a place to live.

If you want to be amid the hustle and bustle of restaurants, bars, museums, galleries, tourism and shopping, then urban residential areas such as Lowertown, Sandy Hill, the Byward Market and Centretown may be right for you. Perhaps The Glebe, Old Ottawa South or the Alta Vista areas would appeal to you.  You can choose from high-rise condominium towers, low-rise walk-up apartment buildings, stately single homes, doubles or row houses, and some very exciting infill properties.  If you love green spaces, but still want to be close to the action, an area like Westboro or Wellington Village, close to the Ottawa River Parkway and recreational pathways, may be preferable.

People who want a larger home or a big yard for their kids and pets to run around in may find suburban areas such as Kanata, Barrhaven or Orleans more to their taste. While living in these areas may involve a commute downtown to work, there are plenty of parks, sports and recreation facilities, shopping areas and restaurants within a short drive of most suburban homes. Depending on your wants and needs, you could live in a townhouse, a semi-detached home, or a detached home, within a wide price range.

For those who want peace and land but would like close neighbours, the Ottawa area is dotted with many small and medium-sized villages such as Manotick, Greely, Osgoode, Metcalfe, North Gower, Winchester, Rockland and Navan. And, of course, if you want total privacy and a large amount of land, there are all of the rural areas in between to choose from, where you can buy a home, renovate one, or build one to suit you. You can buy (or start) a hobby farm, find a perfect place to raise dogs or horses or a family, enjoy the peace and quiet while still enjoying proximity to Ottawa's many great resources such as world-class museums, several universities and colleges, and many prominent employers.

What a great place to call home!!
Buying or Selling?
If you are buying or selling in the Ottawa area or, if you are relocating to Canada's beautiful Capital City of Ottawa and surrounding area, I will be happy to make your move as seamless as possible while providing you with professional and knowledgeable information. Your confidentiality and personal circumstances will be respected at all times.
Where have your referrals been sending Retah?
Hunt Club, Brittania, South Keys, Overbrook, Alta Vista, Hunt Club Woods, Chapman Mills, Longfields, Westcliffe Estates, Carp, Centre Town, Hintonburg, St. Clair Gardens, Urbandale, Blackburn Hamlet, Stittsville, Kemptville, West Carleton, Riverside South, Graham Park, Elmvale, Orleans, Westboro, Applewood Acres, Emerald Meadows, Vanier, Greely, Blossom Park, Barrhaven, Riverview Park, The Market, Kanata,Glebe, Old Ottawa South. Overbrooke