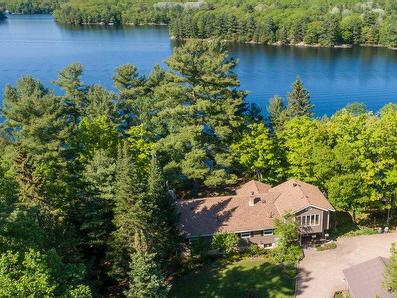 My plan for marketing your property
When you're selling your cottage or home, you want to sell it quickly and for the highest price possible. A good marketing plan can help you do that. When listing your property; I will do the following to achieve your goals:
Pre-Listing Launch:

Prior to launching your listing, considerable research is carried out to ensure that a thorough and accurate package of information is obtained on the property. Records at the Municipal and District offices, Ministries of Natural Resources and Environment, and the Land Registry Office are searched to obtain information such as property taxes, assessment, zoning, legal description, septic system details, lake bed fish habitat classification, and shore road allowance status. This information is compiled into a comprehensive information package that is made available to both realtors and prospective buyers.

Activating the Listing:

Once the property information package is fully complete, the full thrust of my marketing plan is put into action and includes, among other things, world wide exposure, stand-out local print media advertising and specific measures to inform and solicit the involvement of local realtors in your listing.

Formalized Reporting:

As we move through the selling process, you will be kept informed and up to date on all matters related to the sale of your property, including formalized weekly reporting on all web traffic to your properties' dedicated URL and also agent and buyer feedback after showings. You will also be made aware of the performance of the market and any changing conditions that could impact the value of your property.

Offers on Your Property:

When an offer is obtained, I will work directly with you to negotiate the bet possible result. I will explain all of your options and discuss strategy with you, as there are often several different ways to approach an offer negotiation. My actions will reflect what is in your best interest, as that is what you deserve and my reputation depends on it.

Post Offer Follow-Up:

Once we have secured an offer acceptable to you, I will work diligently to ensure that the transaction comes to a successful conclusion. Accordingly, I will assist in satisfying any conditions of the offer, and deal expeditiously with any problems that arise that could jeopardize the completion of the deal.

Listing Management and Marketing:

I will take responsibility for managing the listing and marketing the property to prospective buyers and realtors and have developed a comprehensive and proactive marketing plan over time that has an impressive track record of success. My plan is specifically tailored to each individual property in order to highlight the property's best features and strongest attributes which include professional photos, drone photography, 3D room tours and more.  These will all be in full effect upon activation of your listing.




 
Trademarks owned or controlled by The Canadian Real Estate Association. Used under licence.